Easy Breakfast Ideas: French Toast Monkey Bread Recipe
This breakfast is the best of two worlds…monkey bread and French toast. Sometimes I think it is fun to take a traditional dish and change it up. Using French toast batter to coat refrigerator biscuits and bake in a Bundt pan is always a good idea. The best part however is the maple butter glaze that is baked right into the dish. Every last bite is pure magic! End with a sprinkling of powdered sugar and enjoy every last bite. All you have to do is scroll down to get the recipe and get started.
THIS POST MAY CONTAIN AFFILIATE SALES LINKS. PLEASE SEE OUR FULL DISCLOSURE POLICY FOR DETAILS
While breakfast isn't always my favorite meal of day, things like this French Toast Monkey Bread can totally change my mind.
Soft and pillowy biscuits that are loaded with French Toast flavor and baked to perfection are my idea of awesome. Although the sprinkling of powdered sugar isn't bad either.
I love that I can have it ready for my family in no time and everyone is dying to dig in as the aroma is filling the house.
Every single bite of this Monkey Bread is French Toast made even better.
Thank you so much for stopping by! This French Toast Monkey Bread recipe contains affiliate links, I receive a small amount of compensation if you choose to purchase from my links (for example – as an Amazon Associate I earn from qualifying purchases). I only link to products that I know and love!
Free Email Series
5 Secrets To The Perfect Cookie
Tips & tricks to achieve the most delicious cookies of your life!
My Favorite French Toast Money Bread Batter
Combine heavy cream, eggs, cinnamon, nutmeg, vanilla and salt in a large bowl.
Milk is normally used in French toast batter but I prefer heavy cream. It gives the dish such richness but milk can always be substituted.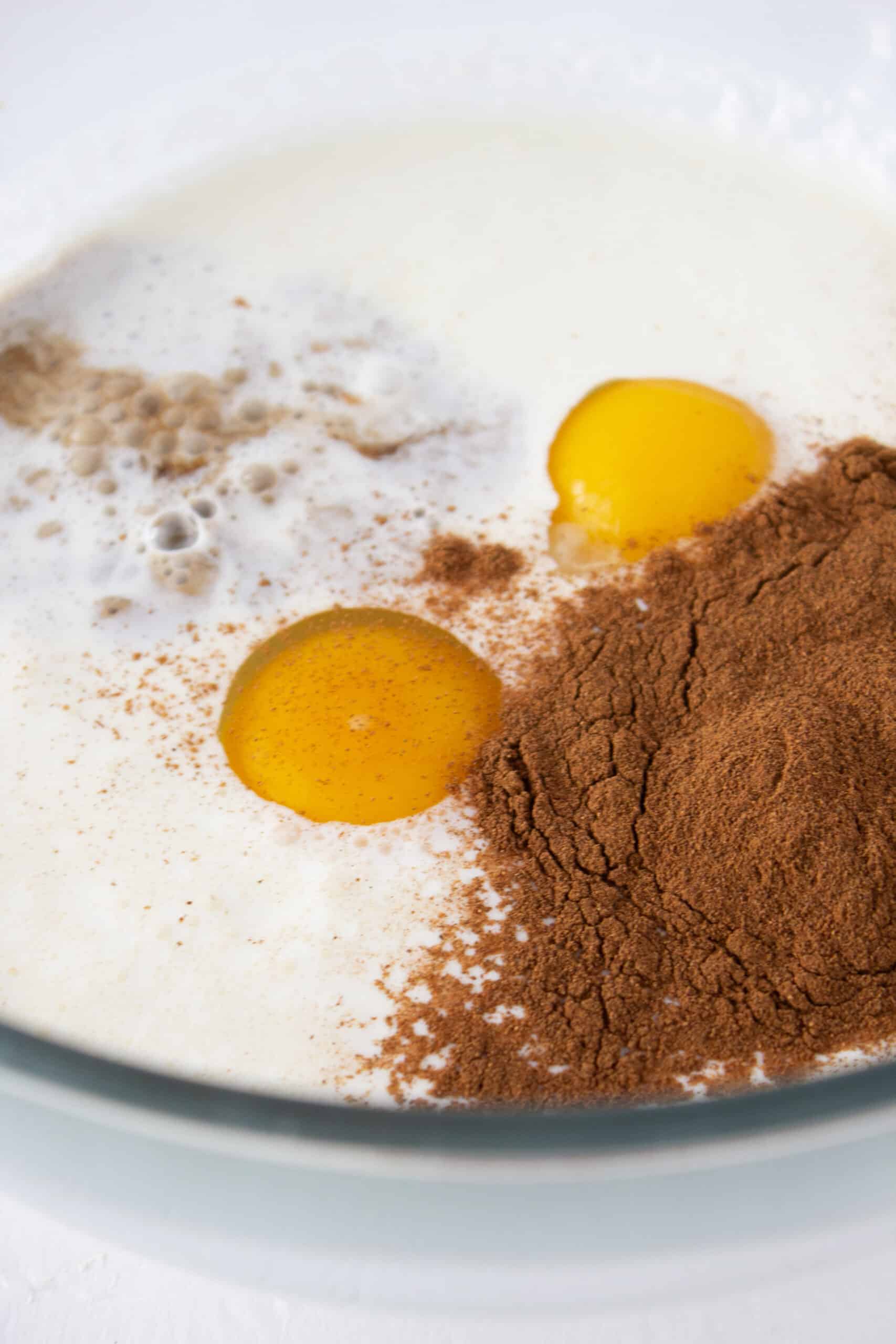 Whisk the ingredients together until you have a silky smooth mixture.
Look at all of those pockets of cinnamon!!
In two or three batches, dip the quartered biscuits into the batter and completely submerge.
Every biscuit should be coated well. Continue until all of the biscuits have been coated.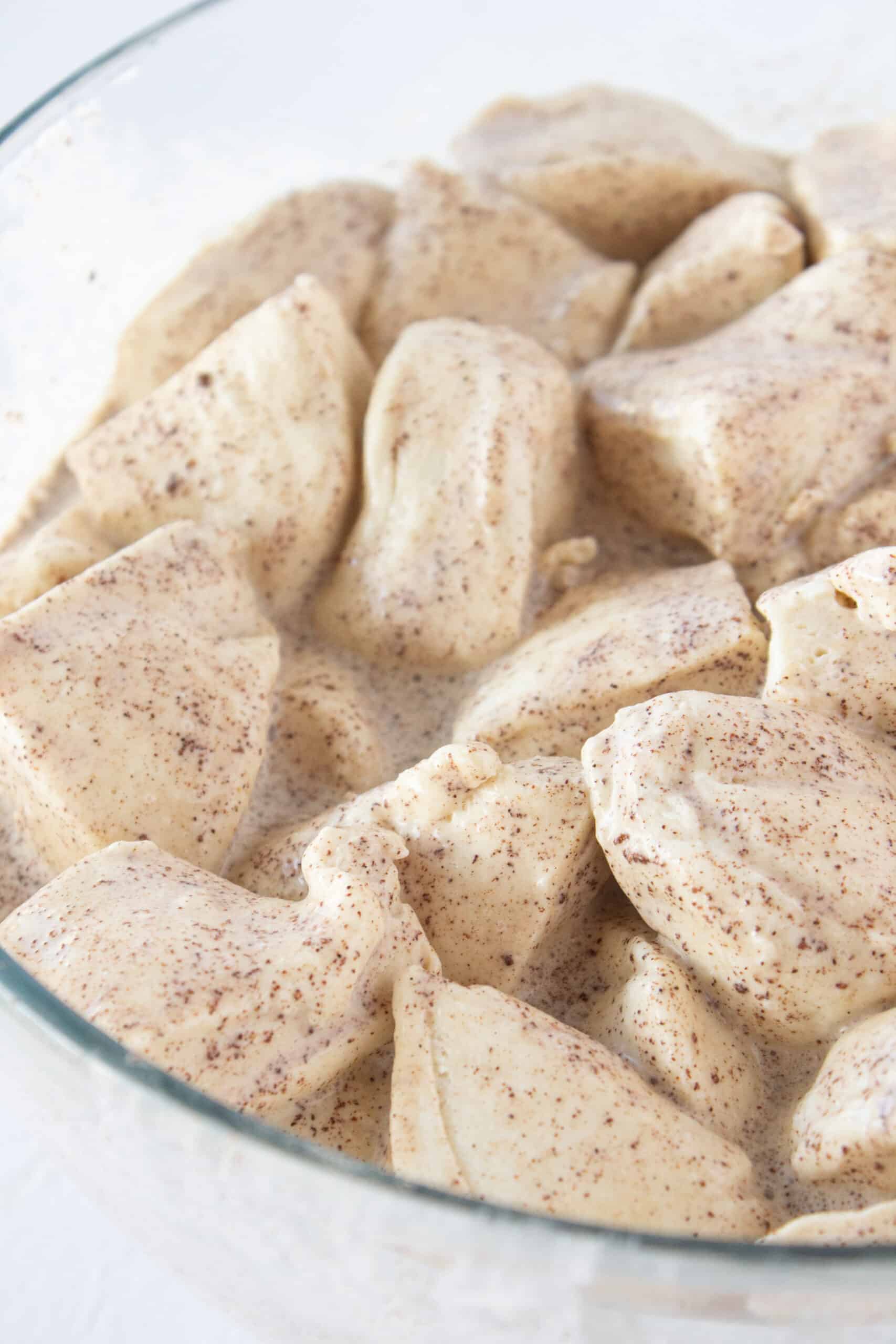 Place the French toast batter covered biscuits into a Bundt pan that has been liberally sprayed with nonstick cooking spray.
Pour a melted butter and maple syrup mixture over the coated biscuits, being sure to evenly cover everything.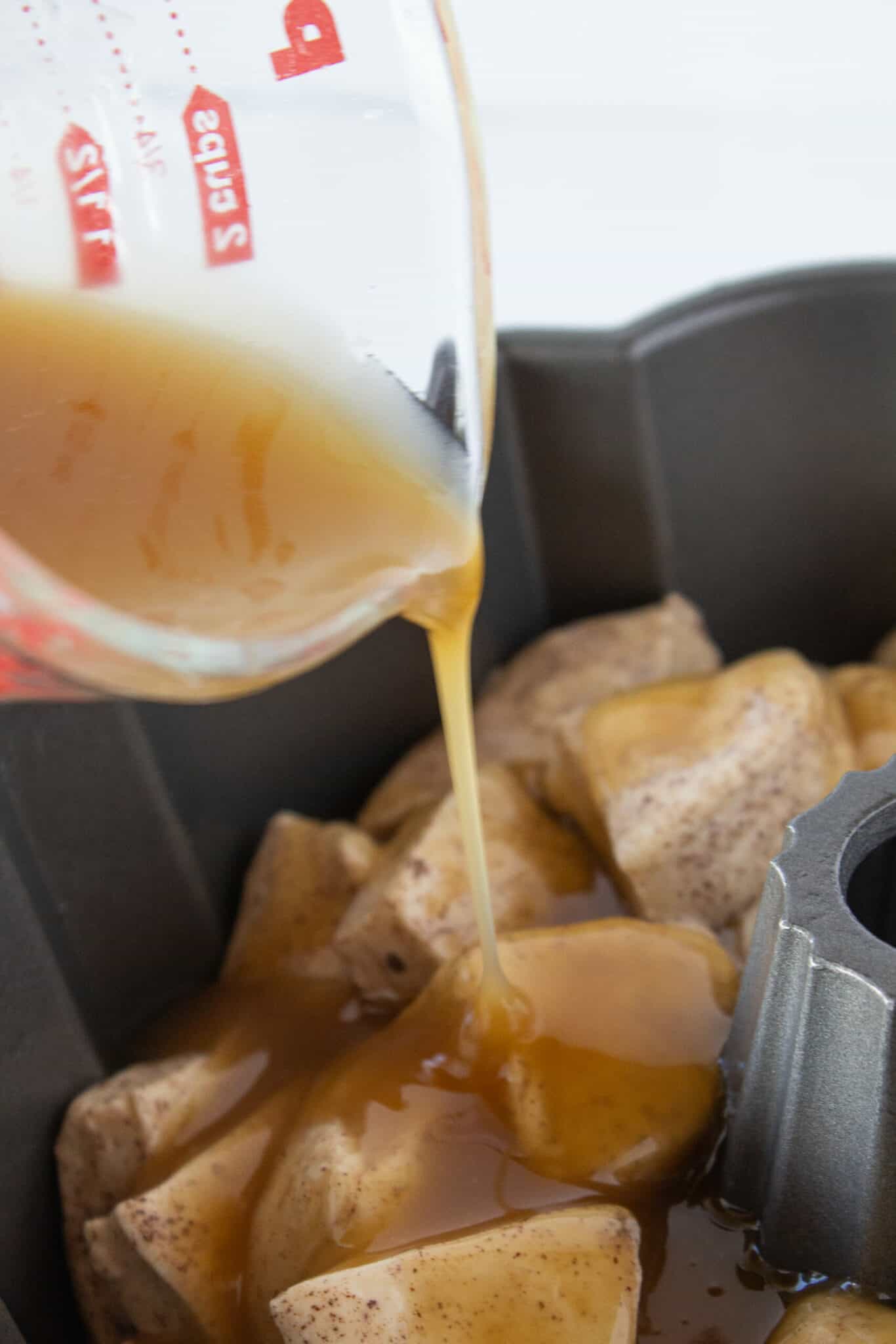 It looks pretty heavenly even before it bakes!
Finally, bake it in a 350 degree oven for 30-35 minutes or until the top is nicely browned and the biscuits are cooked through.
Allow the French Toast Monkey Bread to cool in the pan for 10 minutes before inverting it onto a serving plate.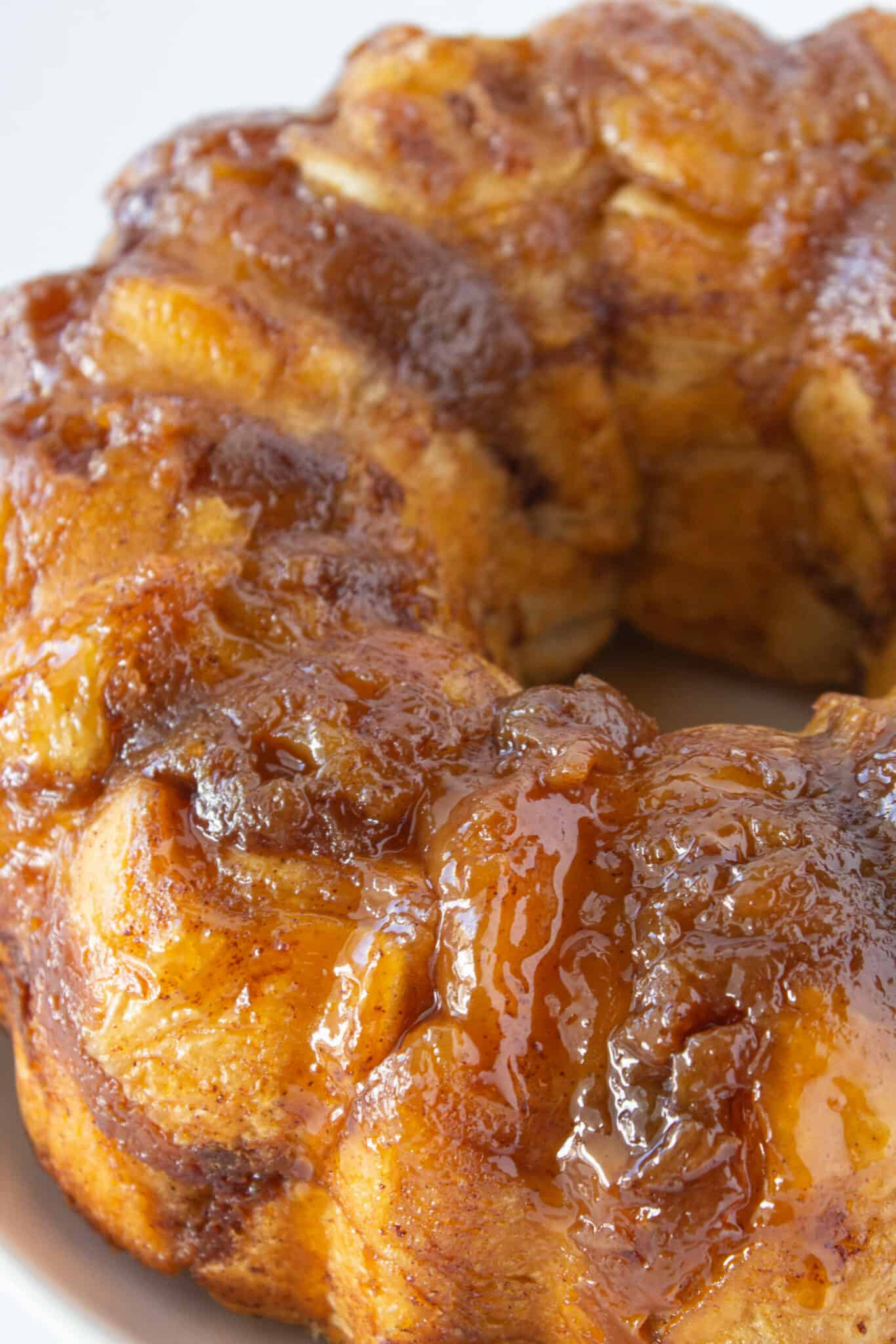 A hefty sprinkling of powdered sugar is the only thing it needs to be totally perfect.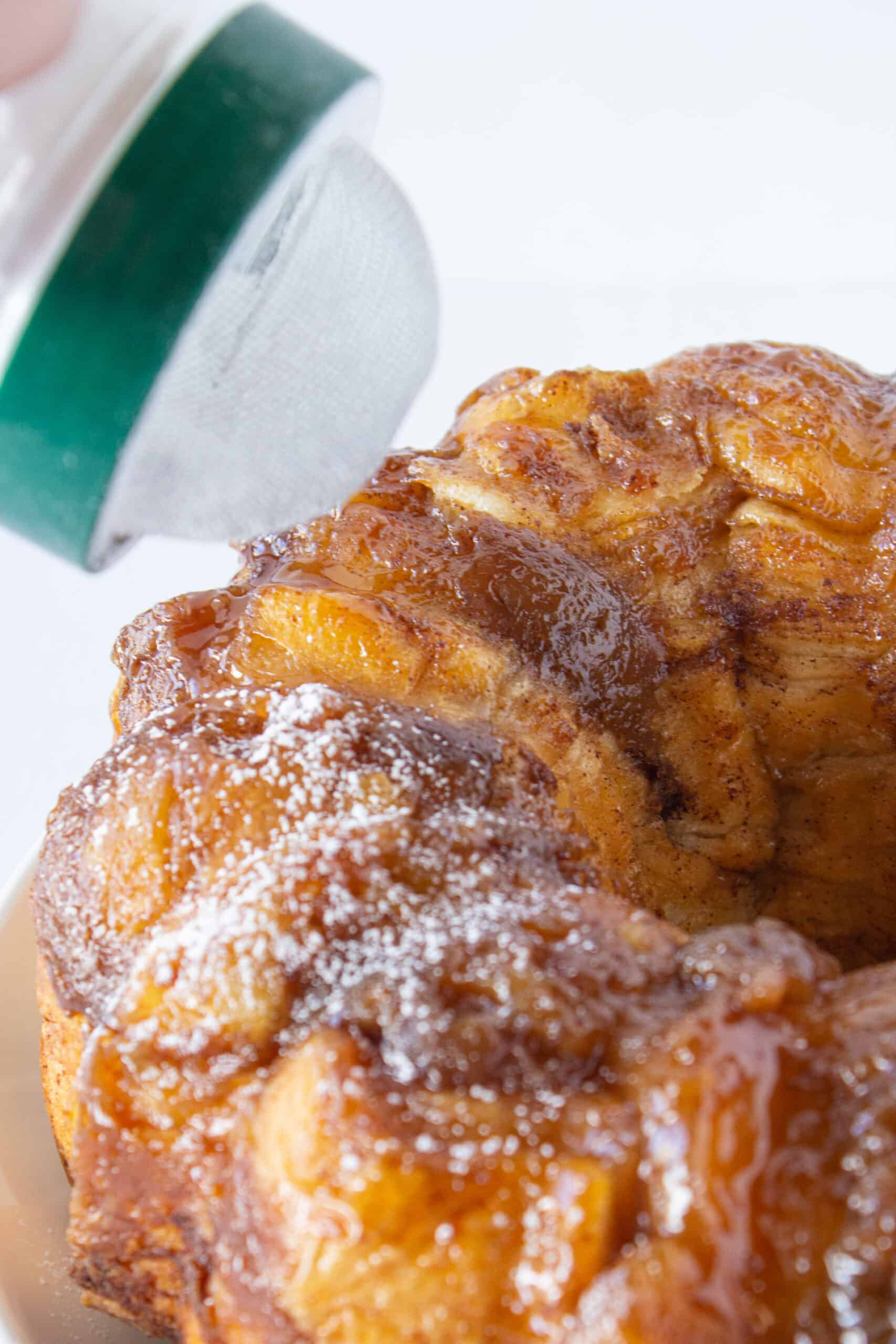 Let everyone pull up a chair and grab a bunch of biscuits, drizzle with a little additional maple syrup and enjoy every single bite.
This breakfast is both fun and extra delicious! Don't wait to try it, grab the recipe and make it today.
5 Tips for Making the Perfect French Toast Monkey Bread
Use heavy cream in the batter for an extra creamy and delicious flavor.
Spray the Bundt pan liberally with nonstick cooking spray so that the Monkey Bread will come out of the pan nicely.
Make sure every biscuit is totally coated with batter.
Be sure you allow the Monkey Bread to cool in the Bundt pan for at least 10 minutes, this will allow everything to cool and release from the pan easily.
Sprinkle with powdered sugar. It is a detail you don't want to miss.
Do you love breakfast? Try these recipes…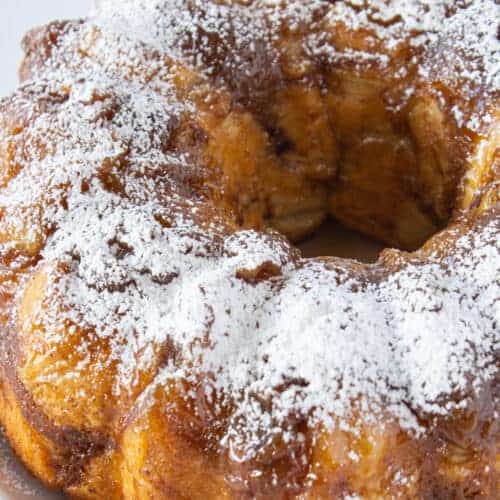 French Toast Monkey Bread
French toast is taken to the next level when refrigerated biscuits and french toast batter are baked in a bundt pan and topped with butter, maple syrup and powdered sugar.
Ingredients
2

cans

refrigerated biscuits

1

cup

heavy cream

2

eggs

1 1/2

tbsp

cinnamon

1/2

tsp

nutmeg

1

tbsp

vanilla extract

1

tsp

salt

1/2

cup

butter

1/2

cup

maple syrup
Instructions
Preheat oven to 350 degrees. Spray Bundt pan liberally with nonstick cooking spray.

Combine the cream, eggs, cinnamon, nutmeg, vanilla and salt. Whisk to combine.

Cut each biscuit into quarters. Add biscuit quarters to French toast batter in batches. Stir to be sure that every biscuit is coated.

Drain excess liquid and place biscuits into the prepared pan evenly. Continue until all of the biscuit quarters are coated and in pan.

Combine butter and syrup, microwave until the butter is melted. Stir to combine and pour the mixture over the biscuits.

Bake for 30-35 minutes or until the top of the biscuits are browned and cooked through. Cool for 10 minutes in pan, then invert onto a serving plate. Sprinkle with powdered sugar and serve warm with additional syrup.