THIS POST MAY CONTAIN AFFILIATE SALES LINKS. PLEASE SEE OUR FULL DISCLOSURE POLICY FOR DETAILS
Sometimes there are moments when I want brownies but don't have a brownie mix. I could always make them from scratch but why when you can use a cake mix to make brownies! Have you ever made brownies with a cake mix? A handful of ingredients is all you need for chocolate brownies that are totally fudgy and rival some of the best I have ever had. You are going to love them, scroll down to grab the recipe for yourself.
Serious question…are you a middle or edge brownie person?
I find that most of the time people feel strongly one way or the other. I am a middle brownie kind of girl.
In fact, if I only have the option of an edge piece I might just pass.
When you get a middle piece every single bite is totally awesome because it is so soft. If you are an edge person tell me why you love them. I gotta know!
Thank you so much for stopping by! This cake mix brownies recipe contains affiliate links, I receive a small amount of compensation if you choose to purchase from my links (for example – as an Amazon Associate I earn from qualifying purchases). I only link to products that I know and love!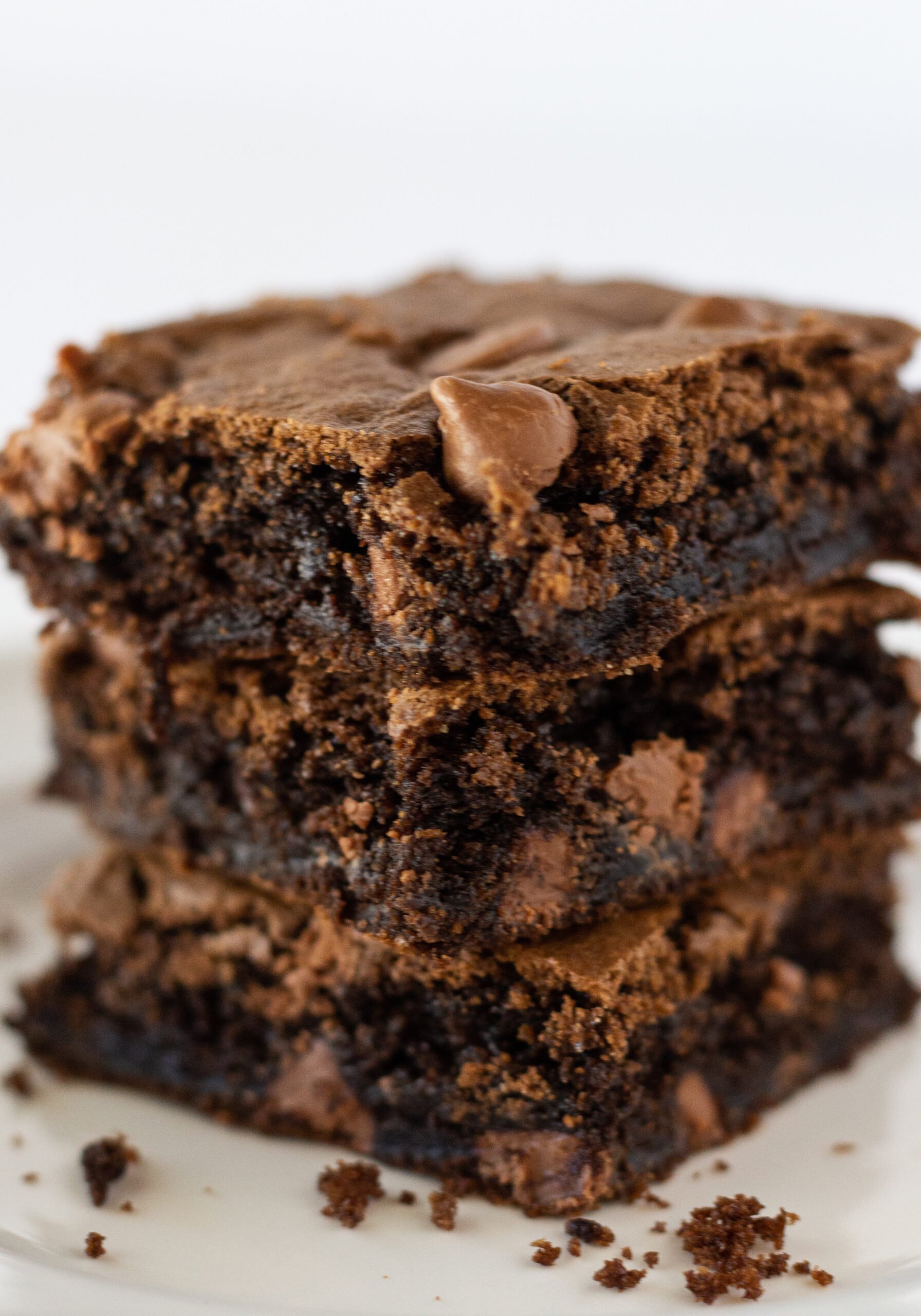 How to make Brownies from a Cake Mix
To make brownies with a cake mix combine your chocolate fudge cake mix with eggs, oil, vanilla extract and water.
You can use a hand held mixer for the job or you can mix by hand. The key is to be sure that there are not any pockets of dry mix hidden inside the batter.
Once the batter is mixed well, add the milk chocolate chips and stir them in by hand.
Cake Mix Brownies Add-in Ideas:
If milk chocolate chips aren't your favorite there are lots of options. Try semi sweet chips, dark chocolate, peanut butter, butterscotch, pecans or caramel bits.
To prepare your pan, line a 9×9 baking pan with parchment paper and spray with nonstick cooking spray.
Pour the batter into the pan and spread it out on top of the parchment paper.
The best way to prepare you pan for making brownies
You can always spray the pan with nonstick spray but adding parchment paper is so nice. Nothing sticks to it.
Another benefit of using parchment paper is that you can pull up on the parchment paper after baking and remove the entire square of brownies. It helps you cut nice and even pieces.
I like to take a few additional milk chocolate chips and sprinkle them on the top of the batter before baking.
Bake in a 350 degree oven for 23-28 minutes or until the brownies have puffed up.
Just be sure to not over bake them. To get a fudgy brownie you are going to want to pull them from the oven when a toothpick inserted in the center comes out a bit wet.
Then allow the brownies to cool in the pan completely before cutting. Setting the pan on a cooling rack works great.
Pro Brownie Cutting Tip:
Use a plastic knife to cut your brownies once they are completely cooled. Plastic knives are naturally nonstick and it won't tear the brownies when you cut them.
Unlike a metal knife where the fudgy center will cling and tear the brownies as you cut them.
Ways to serve brownies:
Serve the brownies warm from the oven. They are so soft and the chocolate chips will make little puddles of goodness.
Serve them with whipped cream and sprinkles. Who doesn't love sprinkles?
Serve them with ice cream and a drizzle of chocolate and/or caramel syrup. This is especially nice when they are warm and the ice cream slightly melts the ice cream.
No matter how you serve them, these sweet little babies are sure to be a huge hit.
Make them today and find out for yourself!
Do you love chocolate cake mix desserts? Try these recipes…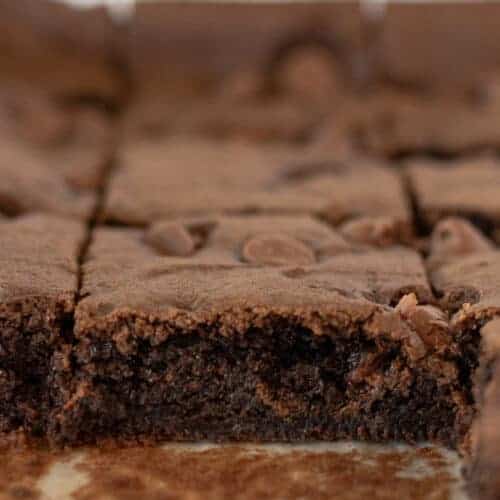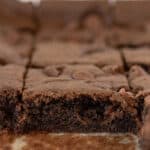 Cake Mix Brownies Recipe
What could be more awesome that turning a cake mix into fudgy chocolate brownies? This recipe is perfection.
Ingredients
1-15.25 oz.

box

chocolate fudge cake mix

⅓

cup

vegetable oil

2

eggs

1

tbsp

vanilla extract

2

tbsp

water

3/4

cup

milk chocolate chips
Instructions
Preheat oven to 350°. Line a 9x9 baking pan with parchment paper and spray with nonstick spray.

In a large bowl combine cake mix, oil, eggs, vanilla extract and water. This can done either by hand or with a hand held mixer.

Pour the batter into the prepared 9x9 pan and spread out into an even layer. Sprinkle a few additional chocolate chips on top of the batter. Bake for 23-28 minutes. To get the fudgy texture you know and love be sure to not over bake. Remove from the oven and allow to cool completely.

Once cool, pull up on the parchment paper and remove all of the brownies. Cut them into 12 squares. Serve with a scoop of ice cream and store leftovers in an airtight container at room temperature or in the refrigerator for up to 4 days.