Simple Syrup just got a lot more interesting with the addition of lime juice and lime zest. Lime Simple Syrup is such a great addition to so many items, especially these Mixed Fruit Frozen Daiquiris.
THIS POST MAY CONTAIN AFFILIATE SALES LINKS. PLEASE SEE OUR FULL DISCLOSURE POLICY FOR DETAILS
What is Simple Syrup?
Simple syrup is equal parts water and sugar. The key is to heat the water warm enough to dissolve the sugar into the water.
One thing to remember is that if you use 1 cup of both water and sugar, you will not end up with 2 cups in the end. Because of the dissolving, it will be more like 1 1/2 cups of simple syrup.
Disclaimer: This post may contain affiliate links and I will receive a small commission from any purchases you may make from these links. It's one of the ways I support my site.
How to Make Lime Simple Syrup
You will know when the simple syrup is ready because the sugar will look like this at the beginning: it settles at the bottom of the saucepan.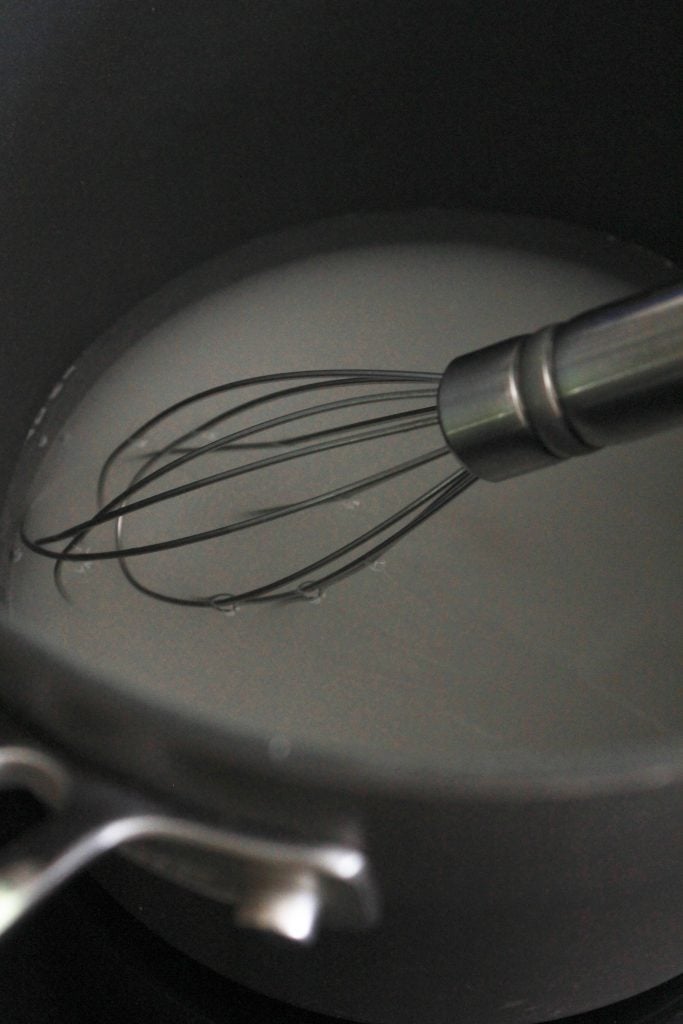 But after some time over the heat and a little whisking, the mixture will soon look like this: a clear liquid.
Once the sugar has dissolved completely, I like to pour it into another container and let it cool completely. We don't want to add the lime juice and zest while it is warm or it can change the taste of the citrus.
After about 30 minutes, you should be ready to add the juice and zest of one lime and stir. Sometimes I like to even add a little more juice to get an extra lime flavor but that is up to you.
Then the mixture is ready to use. I keep it in a mason jar with a lid and store in the refrigerator for up to a month. You will be surprised at how many times you will use it. Tune in Thursday for another recipe that uses this Lime Simple Syrup!
Use this Lime Simple Syrup in the following recipes:
Mixed Fruit Frozen Daiquiri
How to Make Lime Simple Syrup
Simple syrup is made extra special with the addition of lime juice and zest.
Print
Pin
Ingredients
1

cup

water

1

cup

sugar

juice & zest

1

lime
Instructions
Combine water and sugar in a small pan over medium heat. Whisk until sugar is dissolved.

Remove from heat and pour into another heat proof container to cool.

Once mixture is cooled, add lime juice and lime zest. Stir to combine. Store your lime simple syrup in airtight container in refrigerator for up to a month.