THIS POST MAY CONTAIN AFFILIATE SALES LINKS. PLEASE SEE OUR FULL DISCLOSURE POLICY FOR DETAILS
If you are celebrating the 4th of July, Memorial Day or are just wanting to be patriotic, Easy Red White and Blue Desserts are a must. They add a bit of festive fun to any dessert table! If the recipe is no bake then it gets extra points because in the summer who doesn't love that? Either way all of these Red White and Blue Desserts are sure to brighten your celebration without any extra work in the kitchen. Plus, I have tips for everything from deciding what to make and how to serve it!
Easy Red White and Blue Desserts
The truth is that you don't need a special day to make any of these Easy Red White and Blue Desserts. Summer itself is the perfect time. Fruit is fresh and flags are flying making the summer season a great time to get patriotic.
Using a cake mix, fresh fruit, no bake recipes and other simple ingredients can result in a recipe that is super festive but isn't hard to make. Saving time in the kitchen without sacrificing quality is especially wonderful when the weather is warm and everyone is itching to head outside.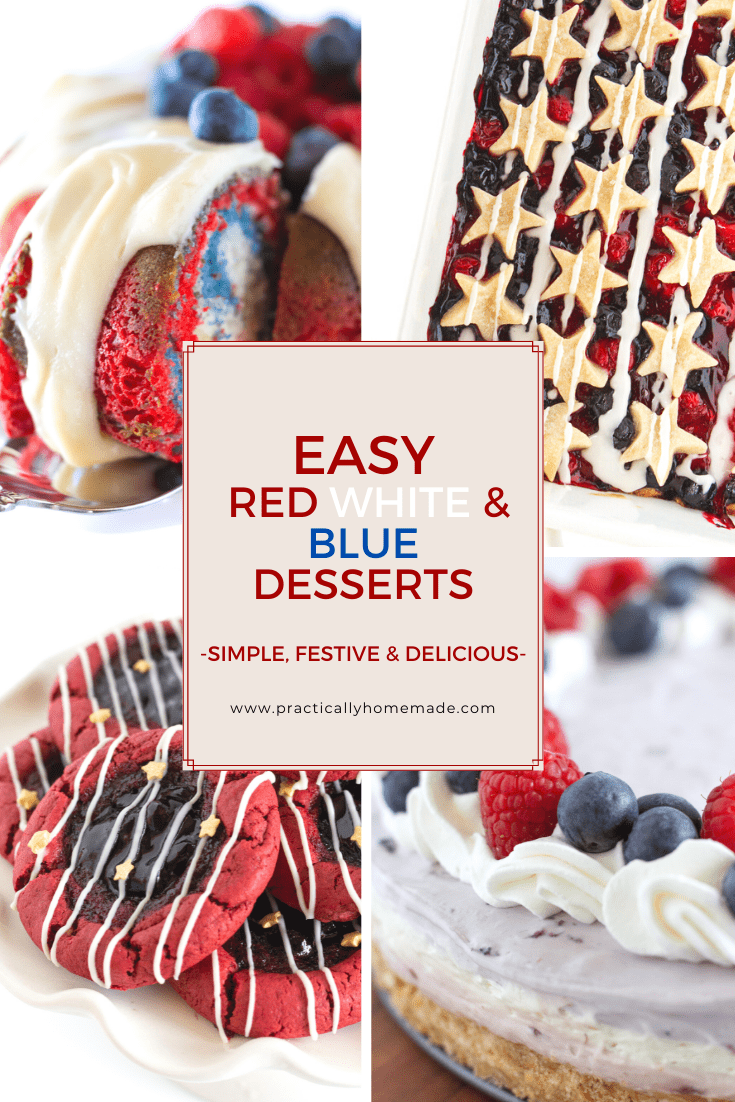 How to Choose a Red White and Blue Dessert
The hardest part might be choosing which Easy Red White and Blue Dessert you want to make. When deciding, ask yourself a few questions.
Will it be outside? If the party is outside then you need to think about whether or not it will be in the sun. How will the dessert hold up?
How long will the dessert be out? Some Red White and Blue desserts can be out all day long and others can only be out for a couple of hours.
Does the dessert need to be refrigerated? If so, is there a refrigerator or cooler to keep it cold?
Red White and Blue Desserts
Using a Cake Mix to start a Red White and Blue Dessert is always a good idea. While this Red White and Blue Velvet Bundt Cake is easy to make but might look complicated, it isn't. A little bit of food dye and some simple layering is all you need to complete this Bundt cake masterpiece.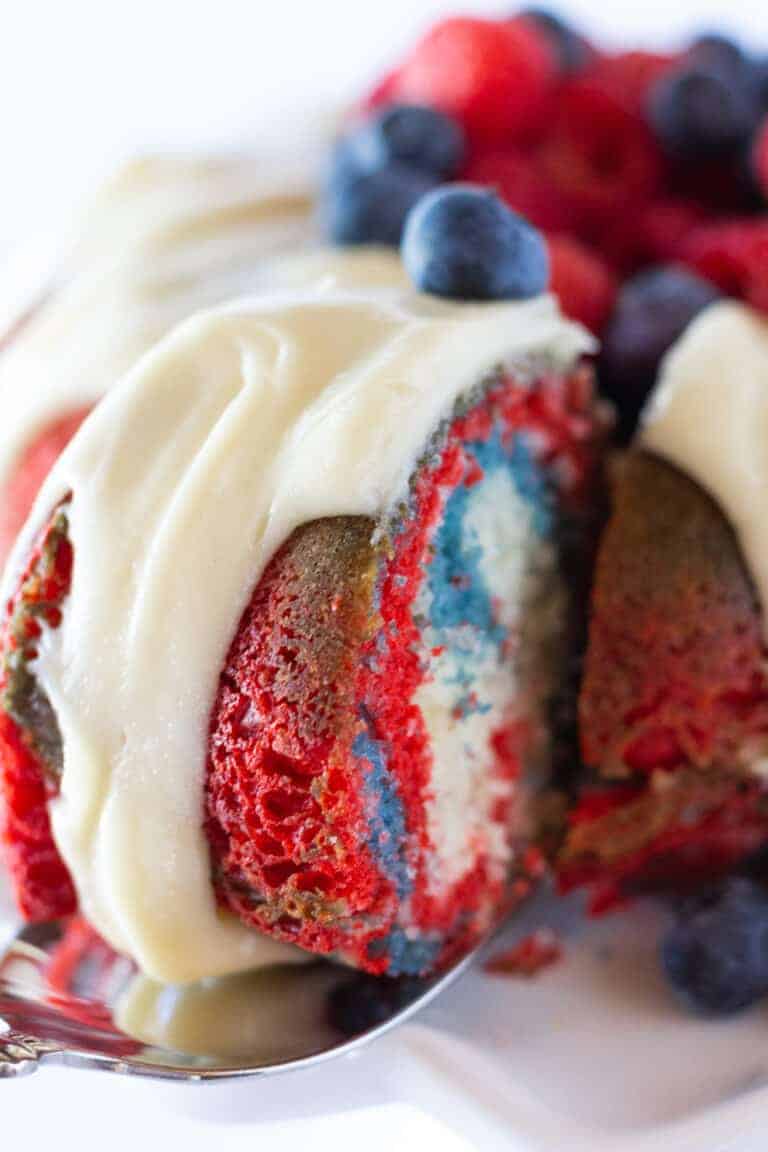 Red velvet is a great place to start when making a Red White and Blue Dessert. A red velvet cake mix, blueberry jam, white chocolate and star sprinkles are combined to create this festive and super fun Red White and Blue Thumbprint Cookie recipe.
A small star cookie cutter can really make a Red White and Blue Dessert! With that in mind, this 4th of July Cookie Bars recipe starts with a delicious sugar cookie. Although, it is the combination of canned and fresh fruit filling that really makes this recipe sing.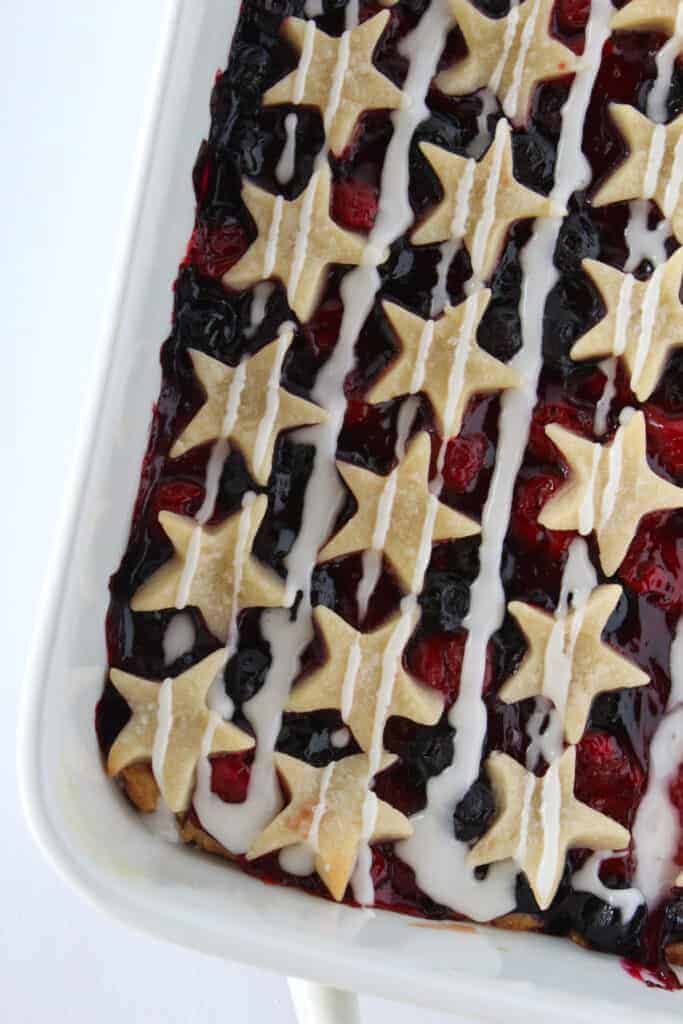 This Berry No Bake Cheesecake can be made all year long but is especially wonderful for celebrating a patriotic holiday. With layers of red white and blue it is gorgeous and would be a show stopping no bake dessert for any get together.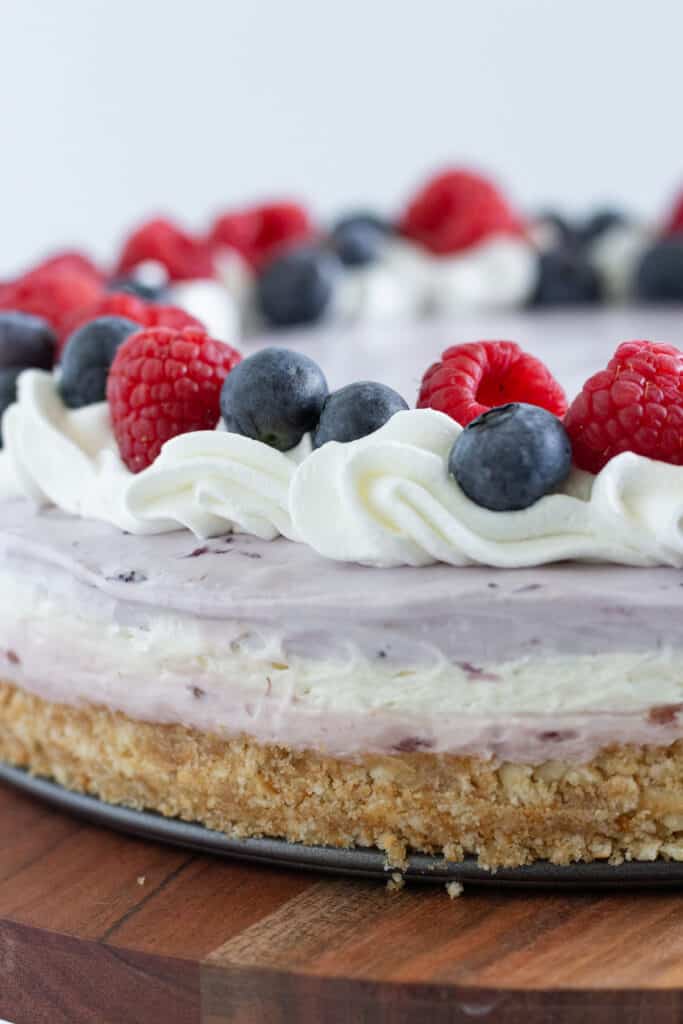 Red White and Blue Desserts always need a few good cookies. Using freeze dried fruit in this Red White and Blue Cookie gives you all of the wonderful fruit flavor without any added moisture fresh fruit would give. Plus, these cookies stay soft for days.
This Red White and Blue Fruit Salad is extra special because of the added lime simple syrup which makes it perfect for dessert. A scoop of vanilla ice cream or yogurt and you have the perfect Red White and Blue treat! Complete with apple stars.
Sometimes taking an everyday fruit tray and transforming it is the perfect idea. That same small star cookie cutter gets put to use cutting fresh watermelon and pineapple for the most festive 4th of July Fruit Tray. A side of 3 Ingredient Cheesecake Dip and you have the easiest Red White and Blue Dessert ever.